Com Elect 3 Video Ethnographies/ Culture-based documentaries
given the backdrop of global pandemics, natural/ manmade calamities and the fervent search for a cure, Communication Elective 3 or Cross-Cultural Communication is a continuation of an on-going dialogue on multi-, inter-, cross- and trans-disciplinal approaches in media, language and cultural studies. the BA Communication students has already taken-up Malayuning Komunikasyon as part of the new-generation General Education courses. Since MSC is offering the graduate diploma in cultural education at the graduate level, teacher-scholars are taking CulEd206: media-based cultural documentation during the second summer or level 2 of the program. Interestingly, most of the GDCE batch 2 teacher-scholars are former AB English students who also took up Cross-Cultural Communication. They were the last batch of undergraduate students who took up English 422 with the same content and the content since 2008 is video ethnography. With the advent of flexible learning modalities, although there were interruptions during the current semester, it was a chance to have a continuity instead of a disconnect. It started with retooling of Contemporary World and Malayuning Komunikasyon which the present batch of BA Communication has already taken during their freshie year. But since last August, there was a retooling of Culture-based Malayuning Komunikasyon, it was but imperative to integrate this to the newly revamped elective course. Then, samples of GDCE CulEd206 output was presented to be guided accordingly. In the end, a series of consultation about the intangible cultural heritage and the domain 5: traditional craftsmanship ensued. One topic is about the plight of a coconut worker in the town of Mogpog and its creative potentials. The exercise is to devote as much as detailed materials on both culture bearers and mode of transmission to the practice of tradition and heritage. Another topic is dedicated to the weaving tradition in the old town of Santa Cruz. Other topics includes ceramics and pottery in Torrijos along with native cuisine or delicacy in the Gasan and Buenavista area.
Dr. Randy T. Nobleza
1st Semester 2020-21
Marinduque State College
Wala nang Filipino sa antas ng kolehiyo sa bisa ng mga bagong general education na kurso ng CHED memo #20 2013. Kaugnay nito, kasabay ng bagong henerasyon ng mga mag-aaral na dumaan sa bagong sistema ng edukasyon sa K+12 ang pagkakaroon ng mga strand at track. Kung sakali na hindi akma ang kinuha noon sa senior high ay maaaring kumuha ng mga bridging course sa kolehiyo para makasabay sa ibang mga mag-aaral na naka-align ang kinuha dati sa basic education. Isa ito sa mga bridging course, ang malikhaing pagsulat o creative writing sa Ingles. Ang pagsulat ng mga malikhaing akda kagaya ng tula, kuwento at dula. Nasubukan ko na magturo sa senior high ng creative non-fiction dahil sa laboratory school ng Education sa MSC. Ngunit mas matagal kong naituro ang creative writing kaysa creative non-fiction sa antas ng kolehiyo. Kung kaya mas minabuti ko, kahit pang senior high at galing sa DepEd ang course guide ay ipinasok ko na rin ang scriptwriting manual at kaunting creative non-fiction para mas integratibo at mas malawak ang maaaring hakbangang ng mga nagsisimulang manunulat. Ginamit kong muli ang teksbuk sa Malikhaing pagsulat nina pinatnugotan ni Ayer Arguelles, isang makata at kritiko. gayundin, para sa pagsusulat ng dula ay ginamit ko ang Trip to Quiapo ng batikang playwright at workshop master na si Ricky Lee. Upang maging madulas ang transisyon mula sa teknikal na pagsulat tungo sa malikhaing pag-akda ay gumamit rin ako ng mga ehersisyon sa creative nonfiction kagaya ng pagsusulat ng diary at journal. Dahil sa angking limitation ng pandemya ay ginawa rin naming paksa ang covid, new normal sa edukasyon at mga pang-araw-araw na gawain sa lockdown at quarantine. Dahil rin sa mga bagyo, pagbaha, walang kuryente, mabagal na internet at mahinang signal ay naging paksa rin sa mga katutubong porma ng pagtula at kuwento. Naging tampok ang mga tula kagaya ng tanaga, dalit at diona. Sa mga kuwento naman, ginamit ang porma ng dagli at flash fiction. Sa kasunod na bahagi ng kurso ay pinasadahan naman ang iba-ibang uri ng skrip at mga kakanyahan ng midyum ng entablado, pelikula, telebisyon at radyo.
Dr. Randy T. Nobleza
Unang Semestre 2020-21
Paaralan ng mga Sining at Agham
Estado Kolehiyo ng Marinduque
Language of Non-Literary Texts in-depth reportage podcasts
This course is quite pioneering, not only because of the worldwide pandemic and perennial natural calamities but since it is already a new age of major course under the English Language Studies curriculum. ELS 111 or Language of Non-Literary Texts is not meant to replace journalism subjects the AB English students used to have such as editorial and feature writing, technical writing, creative non fiction or creative writing combined with literature subjects (World, Anglo-American, Afro-Asian or European). But for all intents and purposes, ELS 111 is for a more in-depth and investigative field of studies about a whole range of topics, it focused only on the environment, climate and ecological worldview. With the use of a host of tools like documentary, mobile journalism, photojournalism, or some other new age way of doing things, it was decided to take an older but a more aural medium of podcasting. It benefited from the National Conference on Investigative Journalism from the leading institution since 1989, the Philippine Center for Investigative Journalism has been established for a newly restored democracy in the country. With the onset of the pandemic, there was also this kind of infodemic that is plaguing public discourse and the advent of online and internet-based reporting. The cure of fake news during this times would be a robust, in-depth and data-driven reporting. Built on a lockdown situation and enhanced and modified community quarantine, ELS 111 was designed to suit the new normal and flexible learning modalities. Language of Non-Literary Texts dwells on the hope that while combating the raging pandemic and natural calamities along with climate crisis, BA ELS learners would be able to adapt and gather data, process the useful information and transform knowledge into wisdom based on ecological practices and sustainability parameter. Likewise, since learners from 15 to 65 are discouraged to go out for safety and health reasons, in-depth reportage on natural, ecological and environment would be more suited to the situation. Even the expected deliverables like annotated bibliography or material sources would be the basis of podcast episodes written and produced by the learners for future generations as a testament against malinformation, disinformation and mistruths.
Dr. Randy T. Nobleza
1st Semester 2020-21
Marinduque State College
As part of the celebration of the 398th Founding Anniversary of the Municipality of Boac with the theme "pagsulong at pagbangon sa pandemya at kalamidad, kaya natin ito" and Marinduque Centennial Celebration February 21, 2020
Part I – logging in to zoom and tuning to youtube live c/o MSC ICTSC
Part II – opening program
1. pambansang awit ng pilipinas
2. opening prayer
3. welcome remarks
4. objectives of the symposium
5. overview and report of Kalinga ng Sining and GDCE webinar series
6. introduction of the participants, guests and panelists
part III symposium proper day 1
1. ang pagkakatatag ng Marinduque bilang lalawigan, Assoc. prof. Rizalina Fidelino
2. pamulaan ng mga lansangan sa poblasyon ng Boac: implikasyon sa kasaysayan, GDCE batch 2 teacher-scholar Jerahmeel Laderas
3. Origin and establishment of Barangays in Municipality of Boac, Marinduque, Ms. Marielle Logmao, MS Enverga Institute Foundation Faculty
4. Importance of Cultural Concervation of Heritage Houses in Boac, Charyl Ysabhelle Sarino
5. Cultural preservation of Bila-bila Festival In Boac, Marinduque: implication to tourism industry, Mary Rose Mawac
6. Concocting a potion! The cultural practices, botanicals and phytochemical of tawak a traditional cure for snakebite in marinduque, philippines, Leny Grace Sapungan
Union Locale featured makers and products
Part IV Closing program
1. impressions
2. virtual presentation of certificates
3. closing remarks
4. municipal hymn
GDCE Teacher-Scholars (Facilitator)
– Kate Lamac
– Arwin Jonse Epa
Panel of Reactors
1. Dr. Homer Montejo
2. Prof. Panchito Labay
3. Dr. Leodegario Jalos Jr
4. Dr. Randy Nobleza
Finally, a coffee table book dedicated to the town of Buenavista would be released during its 102nd founding anniversary and providentially in time for Marinduque's centennial year this 2020. It is indicative of the intricate, complex and deep connections of the town of Buenavista to the province of Marinduque. The former has gone several transformations as the 4th visita called Mahanguin apart from Monserrat (Boac), San Bernardo (Gasan) and San Juan (Sta,. Cruz) de Marinduque. Buenavista was the adjacent pueblo called Sabang still attached to the mother town of Gasang. Before becoming the most recent addition to the latter, the province considered as the geodetic center of the country and the heart of the archipelago.
So as not to preempt the critical next steps of the province of Marinduque after its centennial year, the town of Buenavista is opening new pages of the book of history in the age of pandemics. Let this piece of contribution a drop in the bucket for the next generation. Let me divide this brief introduction into several parts: cultural mapping experience in 2018, townscapes of Buenavista from Marinduque: the heart of the Philippines and the continuing Marinduque timeline to the future Marinduque Studies.
Revisiting the University of the Philippines (UP) Diksyonaryong Filipino (2001), I went back to the definitions of both terms Gasang and Sabang. The former is defined as "pira-pirasong bato, batong durog, tatal ng kabibe, daluyong ng malalaking alon na sumasalpok sa dalampasigan, halamang dagat na hugis tangrib." The latter has an entry, "salikop o hugpungan ng dalawa o mahigit na lansangan, riles, kalye, ilog at mga katulad, junction, arimpongapong, ginsang-an, intersection, kinasang-an, krosing, nagsangan, salapong, saranga." Both definitions convey insights not only about the town of Buenavista but also the province of Marinduque.
According to Marinduque: Heart of the Philippines, Buenavista was formerly known as Sabang. This view is corroborated by a couple of type-script manuscripts of one of the pioneers of local studies and history who belongs to the Gasan Historical Society, Deacon Jose Sadia. The IFI stalwart and education administrator has produced a dictionary of Gaseno terms and History of Gasang along with the History of Sabang. Fr. Christian San Juan has already came out with micro-history with "Ang Kasaysayan ng parokya ng Batang si Hesus, Buenavista, Marinduque." vis-a-vis "San Bernardo de Marinduque St. Joseph Spouse of Mary parish, Gasan, Marinduque."
Cultural and Heritage Mapping of the small town
I have been involved with the Cultural Mapping project in Buenavista since 2018, I was acutely aware that since 2012 there had been efforts to complete and finish the what has started in the capital town of Boac. Anticipating the centennial year of Marinduque by 2020, I was fervently hoping that we would be able to finish the six towns of the province. Within the same year, we were able to restart the previous efforts to put Marinduque in the culture and arts map with the heritage mapping in Mogpog and Buenavista. The following year, we were able to lobby and coordinate with the respective Local Culture and Arts Council of Torrijos, Gasan and Sta.Cruz, by the last quarter of 2019, the National Commission for Culture and the Arts (NCCA) through the Sub-Commission for Cultural Heritage Cultural Mapping project grants for Local Government Units.
So far, after much deliberation and anticipation with the continuing efforts which began with a scoping and negotiation meeting with key municipal officials, presentation to the Sangguniang Bayan and formation or more of reactivation of the Local Culture and Arts Council,   a memorandum of understanding was executed with the chief executive. In between local elections, a weeklong training with local mappers and representatives of the communities involved and Marinduque State College, targets were drawn and divided accordingly. There were at least 238 elements divided to natural, tangible movable, immovable and intangible cultural heritage. Then there was the 1st follow-up visit and the change of personnel and leadership. MSC had its share of transformations but some things remain constant, the significance and immutability of history and heritage. This coffee table book is a continuing work for everybody to partake in and enjoy.
Buenavista Townscapes with a great vista
Cultural work did not begin only recently, we pay homage and tribute to the pioneers and who stood in our place a long time ago. We just pick up the trail where they left off. Though only 34 items were selected to be included in the coffee table book, it does not mean the rest is excluded. In the same token, if there were only 14% of the target met in the cultural heritage mapping, what matters more is we could build on this as reinforcement of the earlier work. Just like the manuscripts, books and even photographic documentations.
Apart from reviewing the coffee table book, there is section about the each town also included with the video companion "round the isle," we turn to the pages of photographs and captions. The first image presents the view of the Elephant Island before becoming Bella Roca with a couple of bancas. Building one of Buenavista's intangible cultural heritage on boat-building, there is really a tradition of fishing and island-ness. The opposite page presents a caption which reads "the town maybe the smallest among the six yet it has been equally blessed with the natural wonders that only a gentle giant of a mountain can provide." Instead of the image of the nearby islet, the natural heritage being referred to is none other than Mt. Malindig. Buenavista might not be endowed with too many structures or built heritage but it is iconic and exemplary because of it is blessed with natural wonders which makes a name worthy of this place. The townscapes backdrop of the mountains and the sea make Buenavista what it is. As one who appreciated the view, Fr. Clemente Ignacio echoed before him, what a good view, hence Buenavista.
Continuing Marinduque Timeline to local and area studies
As Fr. San Juan points out, "the island of Marinduque was known as "Malinduk," a name derived from the beautiful mountain of Malindig. During the colonial period, the island of Marinduque was divided into three visitas namely, Monserrat de Marinduque (Boac), San Bernadro de Marinduque (Gasan) and San Juan de Marinduque (Sta.Cruz)."  Our province is known for devotion and religiosity, therefore it does not come as a surprise we pay respects to the churches of the old.
Based on History of Marinduque excerpts on the "sources of the name of marinduque" Buenavista was mentioned along with the iconic natural heritage, Mt. Malindig. The first source, "it could have come from the name of "Malindig" of a steep mountain in this southernmost part of the island within the jurisdiction of the old town of Gasan before but now within the jurisdiction of the new town of Buenavista." The continuing timeline of Marinduque through its more established towns of Boac, Gasan and Sta.Cruz is projected through the dynamics of the newer towns of Mogpog, Torrijos and of course, Buenavista.
Moreover, it was long presumed that  Buenavista was established as a municipality on January 1, 1919 with Don Agaton Sarmiento as its first Municipal president (town head). But in light of documentary evidence that the founding date is November 9, 1918 rather the above mentioned date. Before the establishments of the towns in Mogpog, Torrijos and Buenavista, Mogpog was part of Boac, Torrijos was part of Sta.Cruz and Buenavista was a part of Gasan.
Moreover, the work of Perfecto Mirafuente and Ramon Madrigal, History of Marinduque, about the end of the year 1918, the people of Buenavista under the leadership of Don Agaton Sarmiento and Don Ciriaco Arevalo, petitioned through Lieutenant Governor, Don
Pedro madrigal of the sub province of Marinduque that Buenavista be separated from Gasan and made a town. Endorsed favourably by Governor Madrigal, the petition was approved, and Buenavista became  a town.
There is also an explanation about the name of the town, Buenavista. According to History of marinduque excerpts, Buenavista was a barrio of Gasan and during the Spanish times until the first two decades of the 20th century. the name of Buenavista was given to the barrios by the Spaniards when they were exploring that part of the island of Marinduque. it was reckoned that the when the explorers were standing on the shores of Buenavista, they had a "good view" Buenavista of the sea with the island of Mindoro yonder and beautifully aligned three isles which they already called "Islas de Los Tres Reyes, Gaspar, Melchor and Baltazar, when they were exploring the place that was Gasan.
On the occasion of Marinduque 's Centennial foundation as an autonomous province and the 102nd year of establishment of the town of Buenavista, may this coffee table book inspire the succeeding generation thrive despite the state of calamity brought about Covid19. We will continue and go on with the legacy of the our humble yet noble ancestors. May we be guided accordingly with grace and blessings.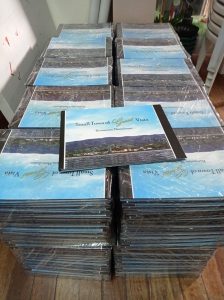 Dr. Randy T. Nobleza
MSC Center for Language and Culture
Marinduque State College
Background/Context (Situationer)
It was during the inaugural meeting of the centennial committee when the Sangguniang Panlalawigan Committee for Tourism scheduled a hearing for the use of Marindukanon as an academic term, Dr. Randy Nobleza from Marinduque State College Sentro ng Wika at Kultura (SWK) was invited as resource person. The former Boac Sangguniang Bayan councilor Rolly Laracas and Marinduque Rising blogger Eli Obligacion were also around to be heard along with the provincial tourism officer Gerry Jamilla. The MSC SWK Director showed a primer of Komisyon sa Wikang Filipino (KWF) regional arm's accomplishments and some future activities for the centennial of the province. He then presented some Board and SP resolutions adopting Marindukanon for research and advocacy. In support, the MSC SWK Director also showed to the said committee some  programs, abstracts, publications which also made use of the term.
After the committee hearing, there was a report and SP resolution urging the MSC president and the Board of Trustees for prudent use of the term Marindukanon. The MSC SWK Director sought the advise of his immediate supervisors, mentors, peers and students about the matter. Likewise, he also asked the appropriate cultural agency for their opinion and appraisal. KWF brought it up while the National Commission for Culture and the Arts (NCCA) National Committee for Language and Translation also talked about it. Both did not deem it necessary to come up with any opinion in writing.
Not until the 4thquarter Board of Trustees meeting, when the same committee of the Sangguniang Panlalagiwan furnished a copy of their resolution to cease and desist the use of Marindukanon term. Hence, it is incumbent upon the MSC community to put the matter in order. During the 1stquarter Administrative Council meeting some MSC officials pitched in their thoughts and sentiments.
According to the MSC SWK Director, Marindukanon is a coined-term in 2000s based on the research of Dr. Rex Asuncion and with the support of the then MSC president Dr. Romulo Malvar. Moreover, Marindukanon as operationally defined, as a gender-neutral term for male and female inhabitants of the island-province rather using Marinduqueño or Marinduqueña. Likewise, Marindukanon is a demonym for both Marinduque Tagalog East and Marinduque Tagalog West. Finally, Marindukanon is a collective term for practices, beliefs and lifeways of the folks from Marinduque.
Culture and Arts research project prior to 2007
The use of Marindukanon is not totally new or novel. It started as an offshoot of the indigenous and local studies of the previous Director of the Culture and Arts. The said unit was under the Research and Extension. There is a mandate for Culture and Arts Studies as approved by the MSC Board of Trustees. But the function was modified when it  was transferred to the Academic Affairs department.  When the SWK Director was still a newbie in MSC, he was given the designation of Knowledge and Information Management System Head and consequently Social Development Directorunder the Office of the President. It was an opportunity to situate and put to practical use his knowledge and skills acquired from the University to his own community. He started by 2009-10 an ethnographic research for his Masters degree about development models appropriate to the island-province. The result was the beginnings of Independent and Alternative Media disseminating the research findings to different venues and platforms.
Cultural and arts studies program from 2017 onwards
During the SWK Director's 7thyear, instead of having a sabbatical, he pursued advanced postgraduate studies. And when he was through,  he integrated some appropriate models for a research/ studies center for Marinduque to be dubbed as Marindukanon Cultural and Arts Studies. In 2017, MSC inked an agreement with KWF to establish a Center for Language and Culture whose function is to consolidate local history, cultural literacy and heritage mapping in the province.  The initial phase of the endeavor is to propose a consolidated Cultural and Arts Studies program with a couple of projects: a multimedia and publication. This is going to be supported by Cultural Mapping and the offering of the Cultural Education. The result would be utilized for particular activities paving the way for creative industries and culture-based economies calibrated for a mining free small-island province.
Freedom and responsibility 2020 centennial year
It was trying times, after much deliberation and consultation that there's a need to justify the use of  a term. To this end, the use of Marindukanon is a worthy cause to defend and assume full accountability for. It is a consequence of continuous academic research, relentless fieldwork, taxing coordination with cultural agencies and other stakeholders. Most especially, in the context of Marinduque's 100 years of re-establishment as an independent province, it is imperative to draw the line. The MSC community is cognizant of possible negative reaction or backlash, nevertheless there is a need to protect academic freedom which enables to create and innovate. This is the primordial function of any academic institution, to nourish the same freedom to be responsive and responsible to the community. There's nothing wrong with synonyms, having different words to express the same meaning. There's no shame for being too regionalistic or Visayan, Marinduque hosts indigenous communities and migrants from the central islands. Historians and academics of the old never used Marindukanon, but language in culture is dynamic, constantly-evolving and never static. The use of nomenclature or nuanced language adds to the revitalization and diversity of endangered and indigenous languages.
Civil Society for creative industries and culture-based economies
This is beyond Marindukanon or the academic field, the world is much bigger and flatter. There are more important matters, pressing issues and impending concerns but MSC owes it to Marinduque to provide alternatives and openness rather restrictions or regulations. MSC is one with the dream of becoming one island-community with sustainable food resources, island life and heritage tourism. MSC community can only do so much, in the end it begins with dreams and building it with the help of the community which it serves until becomes material for everybody to share and partake in. MSC is committed to continue and go on until its full fruition of creative industries and culture-based economies for Marinduque as long as its academic ifreedoms not curtailed. MSC shall endure and only the future coulc tell who's on the right side of history.